Pradhan Mantri Awas Yojana- Credit Linked Subsidy Scheme
Housing For all by 2022. Interest Rate Subsidy on Home Loans.
The year 2016 ended with the honorable Prime Minister Narendra Modi's much awaited speech. The speech gave hopes to the poor, women and senior citizens. The housing policy schemes by the P.M., made easy for the poor to have a home of their own. The new policy of home loan interest rates subsidy to the needed, raised hopes in availing a home with the help of home loan. That too for comparatively lower interest rates.
So, here are more details about Pradhan Mantri Awas Yojana and Credit Linked Subsidy Scheme.
Pradhan Mantri Awas Yojana (PMAY)  – Features and Eligibility Criteria
This scheme is valid in urban India (towns, cities, metros) for urban poor of income below 6,00,000/ year and age between 21 years to 58 years.
Women play vital role in this scheme. A family comprising of husband, wife and unmarried children. Beneficiary should not own a pucca house either in their name or in the name of any member of their family in any part of India to receive central assistance under the Mission Meeting income criteria defined under the scheme
Credit Linked Subsidy is available for housing loans availed for new construction and addition of rooms, kitchen, toilet etc., to existing dwelling as incremental housing.  The carpet area* of house should be constructed or enhanced under this scheme should be upto 30 sq.meters for EWS(Economically Weaker Section) category and upto 60 square meters for LIG(Lower Income Group) category.
For identification as EWS/LIG beneficiary under the scheme, an individual loan applicant should submit self-attested certificate/affidavit as proof of income.
Credit Linked Subsidy Scheme(CLSS) – Features and Eligibility Criteria
Any citizen of India can enroll for CLSS under the following conditions. The beneficiary, at his/her discretion, can build a house of larger area but interest subvention would be limited to first Rs. 6 lakh only.
This new policy of Credit Linked Subsidy Scheme (CLSS) is applicable for the Lower Income Group (LIG) of household income less than Rs.3,00,000 and the Economically Weaker Section (EWS) of household income less than Rs.6,00,000, not only for limited square feet.
So, now let us go into details of how the CLSS scheme works.
Any eligible applicant who choose a carpet area within  60 sq.m(645 sqft) of a flat/house then the applicant gets an home loan interest rate upto INR 12,00,000/- availed from the bank.
And if any eligible applicant is applying for 2 bhk of 975 sqft super built up area which has 644 sq.ft of carpet area, then the flat might costaround Rs. 40,00,000. Now, the applicant can enjoy interest rate subsidy on housing loan for Rs. 12,00,000.
The possible ROI as per Honorable PM speech is 4% less than the current market rate for housing loans. The non subsidized interest rate follows the existing market interest rate, which is currently 8.5%.
Example for CLSS Indetail. 
If any qualified applicant having gross salary of Rs.50,000/- per month and age is 30 years, the person is eligible for 37.88 lakh for maximum tenure of 28 years tenure and 30 lakh for 15 years tenure(know more and calculate your eligibility  http://loanyantra.com/Home-Loan-Calculator.aspx ).
So, the applicant, out of Rs. 40,00,000 has to pay down payment of 20% of the market value, which is Rs. 8,00,000. For the rest of Rs. 32,00,000/-, the applicant can go for a home loan. Under Pradhan Mantri Awas Yojana (PMAY)  Credit Linked subsidy scheme(CLSS) Rs. 12,00,000 will be subsidy interest and other Rs. 20,00,000 (Rs. 32 lakhs – Rs. 12 lakhs ) go as a non subsidy which has existing market rate of interest.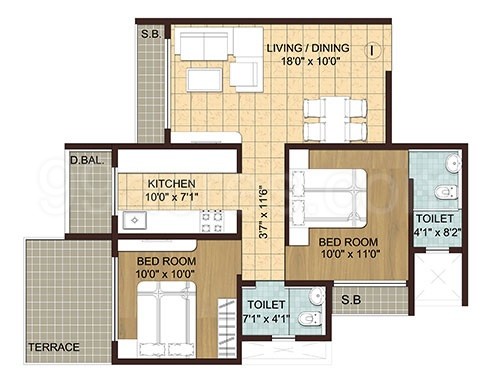 Carpet Area*: Area enclosed within the walls, the actual area to lay the carpet. This area does not include the thickness of the inner walls.
NOTE : Under the Mission, beneficiaries can take advantage under one component only.
Housing and Urban Development Corporation(HUDCO)  and National Housing Bank(NHB) have been identified as Central Nodal Agencies (CNAs) to channelize this subsidy to the lending institutions and for monitoring the progress of this component. Ministry may notify other institutions as CNA in future.
How to Enroll and Apply for Credit Linked Subsidized Scheme (CLSS).
Banks have a separate application for this kind of loan. Follow the official link to  download the application. http://www.tn.gov.in/exwel/forms/app5.pdf
If an applicant can qualify under Pradhan Mantri Awas Yojana (PMAY) for Credit Linked subsidy scheme(CLSS), the applicant can apply through http://loanyantra.com partnered banks and get assured lower interest till you close the loan.